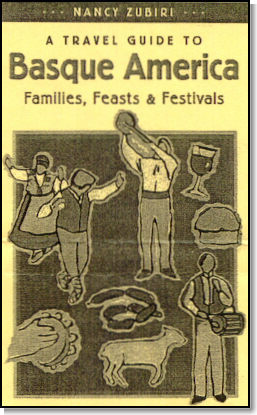 A Travel Guide to Basque America Families, Feasts & Festivals
NANCY ZUBIRI
A Travel Guide to Basque America is the first-ever guide to America's little known but thriving Basque-American communities. Join author Nancy Zubiri, a Basque-American, as she takes you on a coast-to-coast celebration of rich cultural traditions, incredible food, and generous hospitality.
Your journey begins with a discussion of Old World Basques and their home-land. Zubiri then explains why and where Basques immigrated in the U.S. Few people are aware that the first Basque settlement in America was established in Los Angeles shortly after the 1849 Gold Rush. Basque-run boardinghouses and restaurants were social and cultural centers for early immigrants. Today's restaurants, clubs, and handball courts are still the primary community centers. If you've never eaten at a Basque restaurant. you're missing out on some of the most sumptuous and hearty cuisine around Generally served family-style, these delectable feasts include such dishes as fragrant oxtail stew, piping hot chorizos, and a custard-like flan.
Zubiri includes information about Basque cultural activities -exciting folk festivals, traditional costumes, thrilling athletic events, beautiful music, and many annual celebrations and gatherings. A Travel Guide to Basque America Will provide adventurous travelers with an introduction to vacation sites and events still largely unknown to the general tourist but eminently worth experiencing.
PLEASE MAIL YOUR ORDER TO:
University of Nevada Press
Mail Stop 166
Reno, NV 89557-0076
TO CHARGE YOUR ORDER BY PHONE:
Call: (702) 784-6573
Fax: (702) 784-6200
The price of this book is $18.50. Prepayment from individuals is required. Tax is not charged. Books are shipped via United Parcel Service. UPS delivery costs $4.30 for the first book ordered and 50¢ for each additional book. Delivery via UPS requires a street address. Books may also be shipped via book rate for $3.00 for the first book ordered and 50¢ for each additional book. Allow two to four weeks for book rate delivery.
Also check out this page about my book www.nvbooks.nevada.edu/t/travel.html